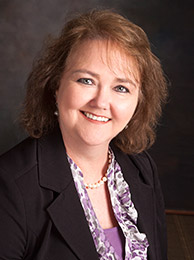 Harriet R.
White, CRPC® RICP®
Associate Vice President Investment Officer - Financial Consultant
Education:
The University of North Carolina at Charlotte
Degree:
B. S. in Business Administration
Certification:

Chartered Retirement Planning Counselor ®

RETIREMENT INCOME CERTIFIED PLANNER®

Industry Experience:
Since 1986
Wells Fargo Advisors Experience:
Since 1991
Hometown:
Mooresville, NC
Resides:
Mooresville, NC
Charitable Interests:

Williamson's Chapel United Methodist Church

American Cancer Society Reach for Recovery

Mooresville Christian Mission

Food for Days Backpack Ministry

 
Harriet graduated with a Bachelor of Science degree from the University of North Carolina at Charlotte, Belk School of Business.  She earned her Chartered Retirement Planning Counselor designation in 1998.  Harriet joined Davidson Wealth Management in 1991 and has over 28 years' experience in the financial services industry.
Harriet provides comprehensive retirement planning services for companies, including plan analysis, 401(k) plan implementation, enrollment meetings and investment analysis.  She also assists high net worth individuals and families with college planning, annuity analysis and multi-generational planning.  She provides a unique service experience by taking a holistic approach to the wealth management process that helps clients preserve their wealth, understand their financial situation and pursue their goals and dreams.
Harriet was named a Five State Wealth Manager by Charlotte Magazine in 2013, 2014, 2015 & 2016.  This list honors an elite group of Charlotte area advisors, representing less than 7 percent of the wealth managers in the area.
Harriet is active in community service through her charitable interests. She resides in Mooresville, NC and has two children, Chase, and his wife, Kathryn, live in D.C., Lindsey, her husband, Tyler, and their son live in Raleigh, NC.
The Five Star Wealth Manager award, administered by Crescendo Business Services, LLC (dba Five Star Professional), is based on 10 objective criteria: 1. Credentialed as a registered investment adviser or a registered investment adviser representative; 2. Active as a credentialed professional in the financial services industry for a minimum of 5 years; 3. Favorable regulatory and complaint history review (unfavorable feedback may have been discovered through a check of complaints registered with a regulatory authority or complaints registered through Five Star Professional's consumer complaint process*); 4. Fulfilled their firm review based on internal standards; 5. Accepting new clients; 6. One-year client retention rate; 7. Five-year client retention rate; 8. Non-institutional discretionary and/or non-discretionary client assets administered; 9. Number of client households served; 10. Education and professional designations. Wealth managers do not pay a fee to be considered or awarded. Once awarded, wealth managers may purchase additional profile ad space or promotional products. The award methodology does not evaluate the quality of services provided and is not indicative of the winner's future performance. X,XXX [Market Name] wealth managers were considered for the award; XXX (X % of candidates) were named Five Star Wealth Managers. *To qualify as having a favorable regulatory and complaint history, the person cannot have: 1. been subject to a regulatory action that resulted in a suspended or revoked license, or payment of a fine, 2. had more than three customer complaints filed against them (settled or pending) with any regulatory authority or Five Star Professional's consumer complaint process, 3. individually contributed to a financial settlement of a customer complaint filed with a regulatory authority, 4. filed for bankruptcy, or 5. been convicted of a felony.