Process
Your goals, our roadmap
Using a broad-based wealth management approach, we can act as your personal Chief Financial Officer. Our process-driven method and serious approach will help you better define your goals.
This process is about you and you alone; our discussions are intended to bring clarity while tying your values, goals and investments together. We ask important questions, including:
What is the purpose of your money? Once we understand this, we can create an investment policy appropriate for your circumstances
What is the most effective and efficient way to invest your money? Your investment policy reflects our diagnosis of the current situation, and allows us to determine a strategy and optimal asset mix.
What is the most responsible implementation? We select your investment strategy, set a timeline and establish other expectations that allow us to work on your behalf.
Are you on track to meet your goals? Ongoing monitoring of your plan, the manager's ongoing work, and changes in your financial life are routinely factored into the evaluation of your progress toward your goals.
The value of the conversation
The Envision®
process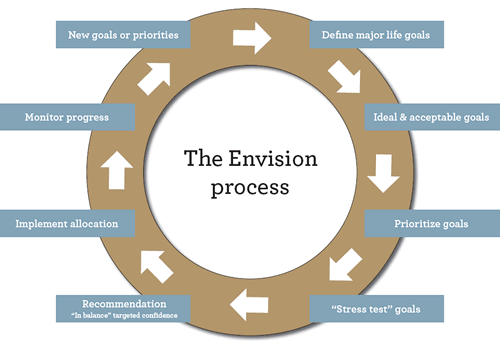 Our approach gets to the heart of the matter... and to the heart of what matters.
From our thorough understanding of your needs, we provide a customized wealth plan detailing goals and action steps in each area of your financial life. To develop your plan, we use Wells Fargo Advisors' Envision process which was first beta-tested by Davidson Wealth Management.
Our deep experience means that your investment plan is both customized and adaptable to your vision and goals. Your plan will also reflect our holistic approach, taking into account our family's financial needs – which are not defined by investments alone. Finances are intertwined with your health and well-being, your family and your work. We seek to grow your confidence in five primary areas of your financial life:
Assisting children
Preserving Income
Retirement planning
Estate and legacy planning1
Assisting parents
1 Wells Fargo Advisors does not render legal, accounting, or tax advice. Be sure to consult with your own tax and legal advisors before taking any action that may have tax consequences.